East London is packed with some of the best pieces of street art in the world! Walk down any road in Shoreditch, Bethnal Green, Hoxton or Hackney and you'll see what we mean.
By far the best way to discover this art for yourself is to simply go out and wander up and down the streets and alleyways. You'll discover an abundance of pieces – from trashy graffiti tags to works of mind-blowing skill.
WHERE IS THE BEST EAST LONDON STREET ART?
The best place to start is Shoreditch Overground station. Head in any direction from here and you'll find something fantastic. Here are our highlights:
Chance Street
Head straight across Bethnal Green Road to Chance Street and you'll find two unmissable pieces of artwork. The first is a huge hedgehog by Belgian street artist ROA, who is known for his large sketch-like urban animals.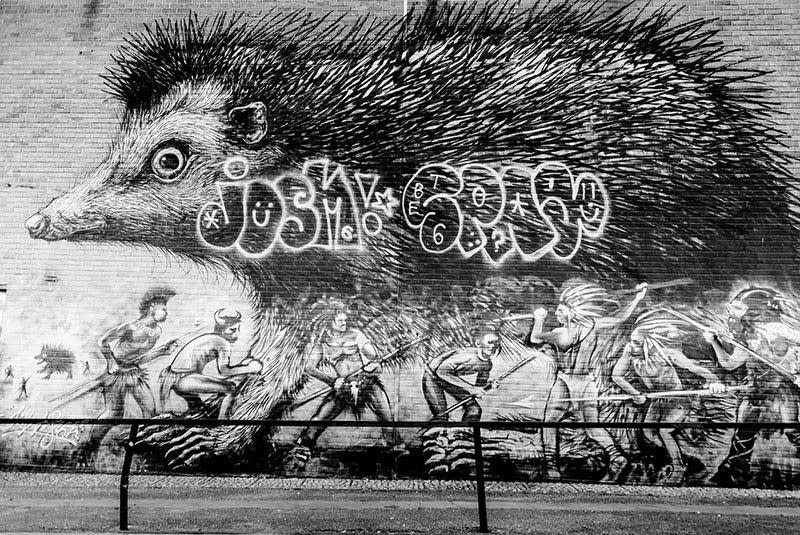 As is the case with street art, the original masterpiece has been 'developed' with a few tags and a gang of native Americans appearing to hunt the hedgehog.
Further down the road you cannot fail to notice the vibrant colours of a full building mural by German artist MadC.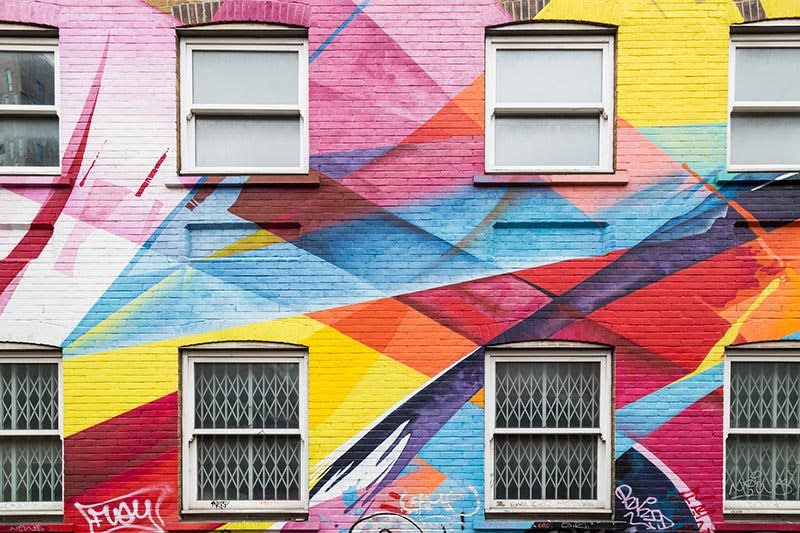 Ebor Street
Hop a road over onto Ebor Street and you'll see two works by Ben Eine, who's well known for his colourful alphabet artwork that adorns walls and roller shutters around London. One side reads 'Extortionists' while the other reads 'Like Nothing Else' (recently replacing his long-standing 'Protagonists' wording).
Sclater Street
Heading towards Bethnal Green, Sclater Street offers up a plethora of different designs. In fact, it's probably one of the most street art packed streets in the area. Oddly, the derelict building below is one of our favourite areas, with dozens of unique tags and quirky designs hidden away here and there.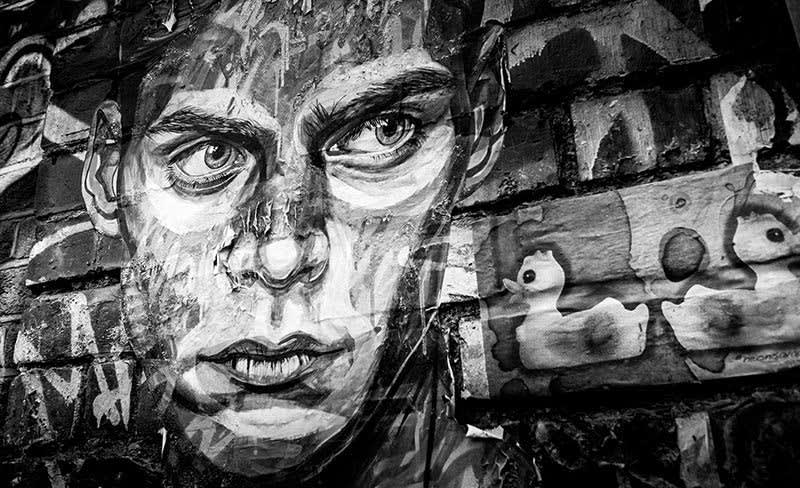 Brick Lane
At the end of the road you'll come to Brick Lane, and if you can drag yourself away from the bagels, coffee shops and retro cereals then there's plenty to see. Just take a look at the pictures below: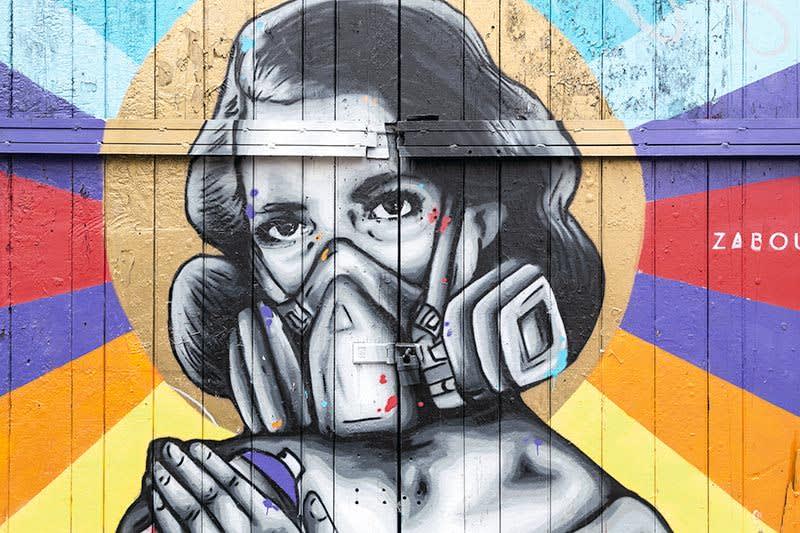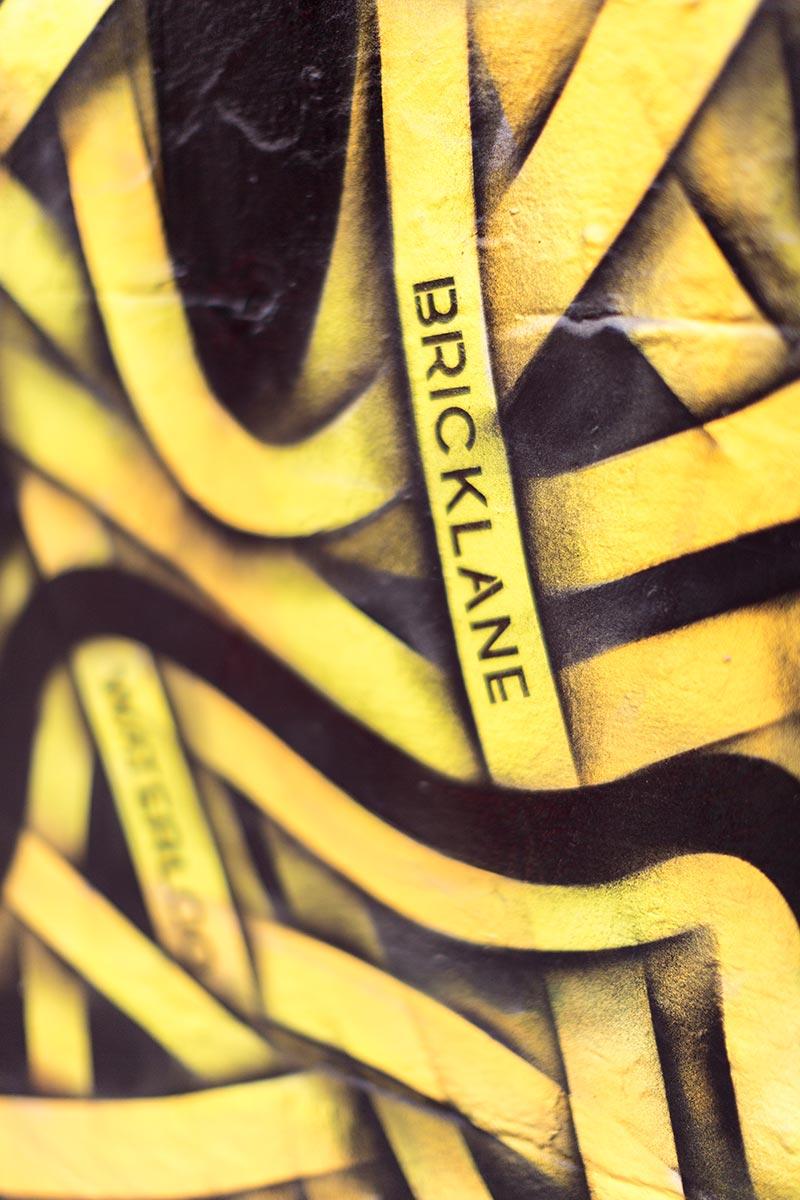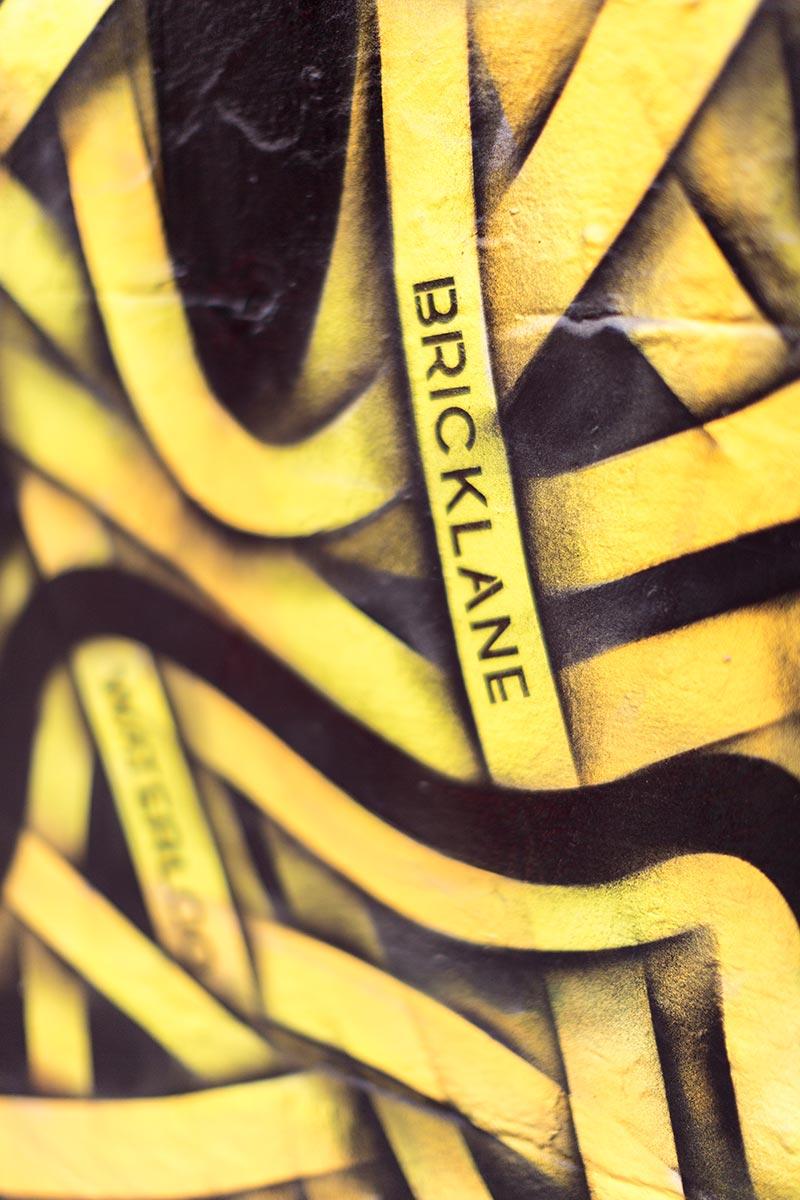 Hanbury Street
Off Brick Lane down Hanbury Street you'll find a fantastic piece by Dan Kitchener, who's known for his iconic urban scenes lit with neon colours and headlights. Check out the full mural on Google Street View here.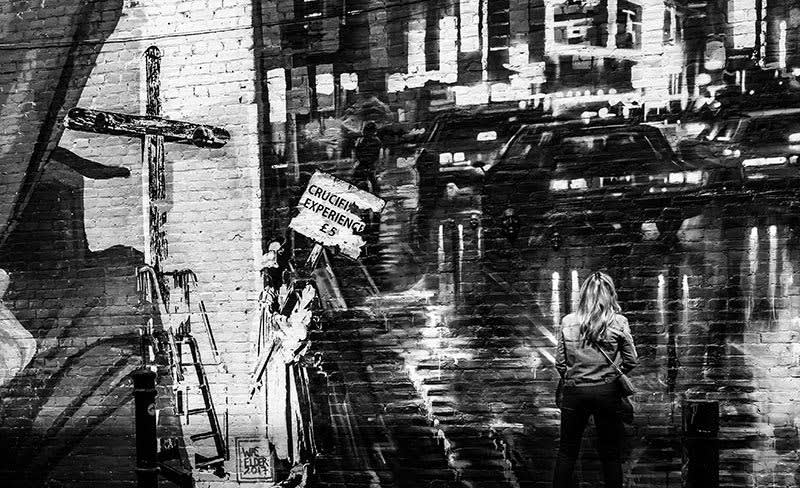 In fact, we loved Dan Kitchener's work so much that we commissioned him for a mural at Vantage Point: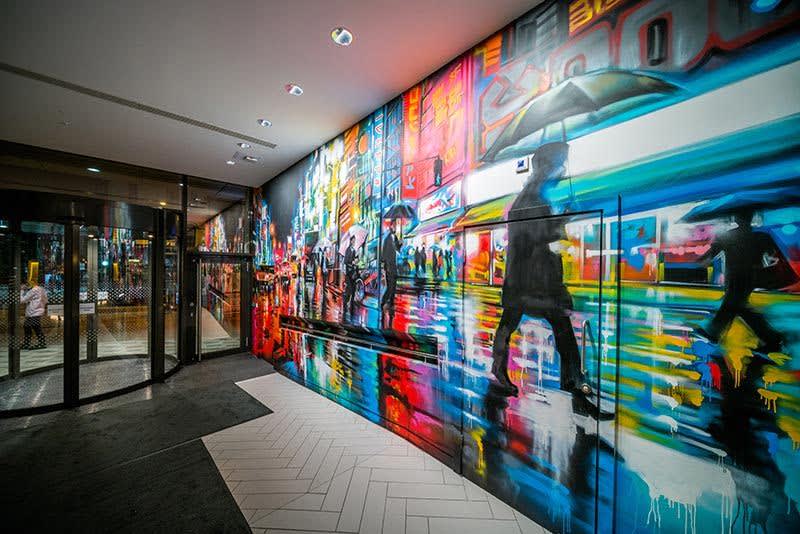 Ellsworth Street
Once you're in Bethnal Green there's still plenty to see. Just off the high street of Bethnal Green Road is Ellsworth Street. On one side are a couple of impressive looking wasps, but on the other is The Sun Tavern, which offers takeaway Poitín (a form of Irish moonshine). Just below this takeaway hatch is a brilliant piece by James Cochran, aka, akaJimmyC!
James has a distinct style of composing all his work from dots and dashes of spray paint, and one of his pieces – his mural of David Bowie in Brixton – was catapulted to the international stage last year following Bowie's death.
Chrisp Street
If you head further East into Poplar you can even find a Banksy! Look for a huge chihuahua on the corner of Chrisp Street and you'll find the Banksy in the car park behind.
Street art in East London
So there's just a few of the best pieces of street art in East London, but really there are hundreds more to find!
And they're constantly evolving too. Take the colourful lion's head at the top of this blog for example. It doesn't exist anymore, after being daubed over by someone else's work! That's the nature of street art and that's part of what makes it so special. And because of it's abundance in East London, places like Bethnal Green and Shoreditch have become vibrant, exciting areas to live, work and play.